Chatbots and How They Can Shape the E-Commerce Market in Southeast Asia
In April 2016 Facebook, the leading social networking site introduced chatbots to its messaging app, Facebook Messenger. And since then, chatbots and their implications on various industries have been the hottest topic for discussion and debate among entrepreneurs as well as investors!
While chatbots, as concept is not new to the tech world, never before they have entered mainstream businesses as today. The e-commerce giant, Amazon is already leveraging 'Alexa' to create a highly personal shopping experience for their users. The other big-name, eBay is gearing up the competition too with their ShopBot too. Spring is another e-commerce platform who adopted chatbots to enhance their user experience early on! And with Facebook launching their Messenger Platform service, businesses all around the world (irrespective of their size) have the advantage of creating a bot account and automating their customer interaction.
So, what are these chatbots? And how exactly they are going to shape the e-commerce industry Southeast Asia?
Let's find the answers!
What are chatbots?
Chatbots are highly intuitive programs that used AI or Artificial Intelligence to interact with humans through text or voice chat. In the beginning the programs had the capability to perform mundane and repetitive tasks much faster than humans. Today, chatbots can give the day's update, get things done or in case of e-commerce can give you highly personal shopping suggestions based on your past shopping patterns, interests, age and gender.
In short, you can communicate with a chatbot simply like you communicate with any other person on your contact list and get updates, suggestions or lodge complaints.
How chatbots are shaping the e-commerce industry?
As an industry, e-commerce is one of the most competitive one today! And with rising level of competition comes the initiative to create a better user experience to capture market share.
According to research, today's consumers value a personalized shopping experience the most. The ability to search the products they are looking for, read the reviews and purchase the product that meets their criteria are on top of their priority list. Here, having a AI powered chatbot that can answer questions, analyse the search patterns, buying behavior and suggest relevant products can dramatically improve the shopping experience.
Notably, a lion's share of human interactions today are happening through messaging apps. This is especially true for a region like Southeast Asia, where smartphone penetration is sky-high! Thus, introducing chatbots that can interact with consumers across messaging apps and create a more personal shopping experience is a win-win solution for both businesses and consumers.

Chatbots for online shops
With Amazon showing the way, e-commerce businesses all over the world are ready to up their games by introducing chatbots. Here's how Chatbots can help you grow your numbers:
#1 Personalize the e-commerce experience:
One of the major concerns for any e-commerce business to create an experience that is basically human in nature. In a market like Southeast Asia, where a large number of consumers are first time online shoppers, this is even more important. With chatbots this goal can be attained!
A chatbot can answer queries asked in natural language (the day to day conversational language). For example, one can type "Find me a yellow t-shirt" and the chat bot can search your inventory and come up with personalized suggestions for a yellow t-shirt. The program can even answer queries regarding size, style or any other related issues. This way, the entire shopping experience becomes highly intimate, satisfying the need of human touch.
In short, a chatbot can act like a virtual salesman for your business!
#2 Analyse interactions for better customer engagement
The chat logs from your chatbots can prove to be the goldmine of customer behavior insight. You can analyse the data and identify the most searched categories and products for particular geographic locations, age, gender etc. In Southeast Asia, where the market ishighly diversified, this intelligence can prove to be the winning card for any e-commerce business. Moreover, having thorough knowledge about the shopping behavior and more importantly the shopping process, you can offer exactly what your consumers want and how they want!
#3 Notify users about exciting offers and launches
Most online shops use e-mails to notify users about new launches and offers. However, in today's age, when a customer is receiving hundreds if not thousands of marketing e-mails in a day, opening and conversion rate of e-mail campaigns are taking a big hit.
Here, notifying your consumers about everything new through a messenger app will make the communication way more personal.
#4 Have a customer care executive 24*7, minus the whopping cost
Your online shop stays open 24*7; however, having a customer support executive online 24*7 comes with a huge cost. Chatbots can help e-commerce businesses to minimize the cost, while having someone to interact with users always.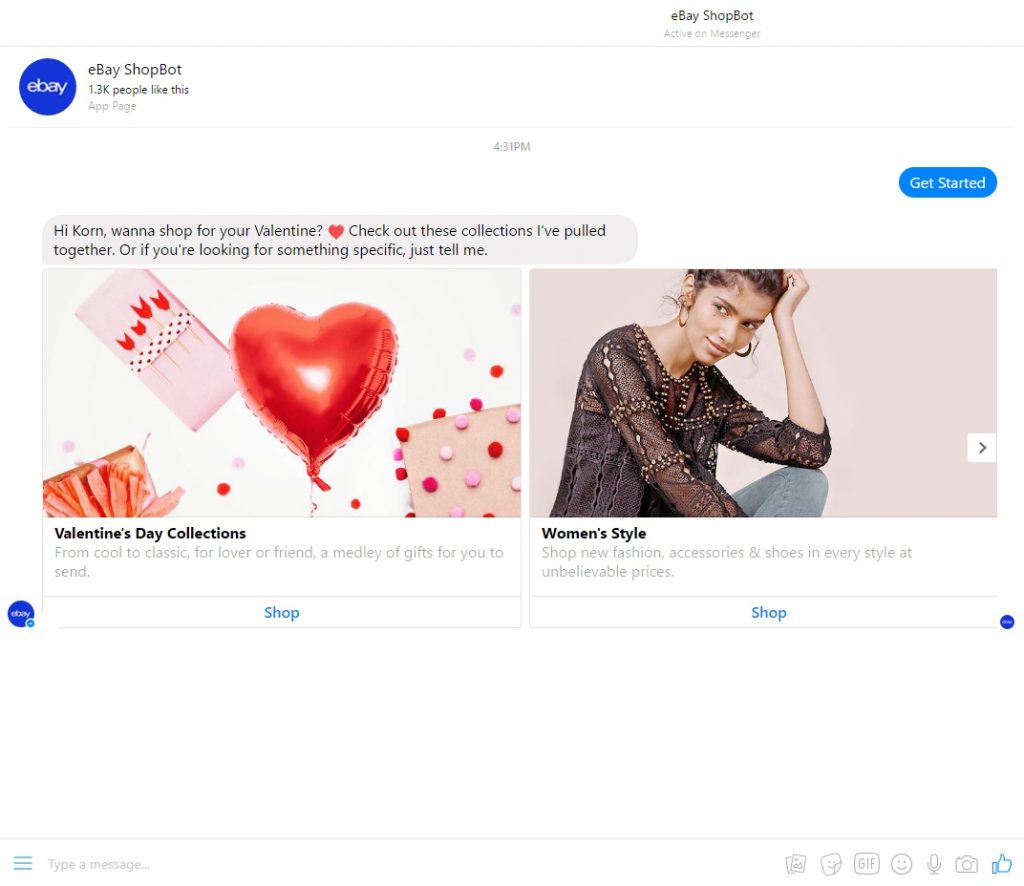 Chatbots for users
While chatbots have tons of benefits for online shops, they have something to offer to the users too!
#1 Easier, quicker and customized shopping experience
Today's online shoppers are pressed for time and thus are looking for an experience as easier and quicker as possible. With chatbots this goal can be attained!
The intelligent programing of chatbots let them find exactly what you want with a simple text or voice input.
#2 More accessible customer support
Be it a query about size, a return order or a quality complain, chatbots lets customers interact with the businesses right from their messaging apps.
In a market where social commerce is as big as traditional e-commerce and where a lot of sales are happening through messaging apps such as Facebook Messanger and Line, chatbots truly have the potential to shape the industry. Keeping in mind the human touch and 24*7 customer engagement chatbots bring, it can be safely said that chatbots are going to be more mainstream in Southeast Asian e-commerce market in near future.