Priceza Organizes eCommerce Talk 3 – Surviving the Rise of Omnichannel Commerce
Bangkok, 15th June 2017: Priceza, the leading shopping search engine of Southeast Asia is all set to address the key challenges of the rising omnichannel commerce eco-system in the region.
In an effort to address the issues and find sustainable strategic solutions, the company is hosting the Priceza eCommerce Talk 3 – Surviving the Rise of Omnichannel Commerce on 5th July'17 (Wednesday), from 2 pm to 5 pm.
The event which is being hosted at AIS D.C. The Emporium Bangkok, Thailand will see Thanawat Malabuppha, Expert from Priceza, Chate Suthitananont, Expert from SO IDEA and Kavin Sopitpongstorn, Expert from DHL discussing various challenges of omnichannel commerce. The experts will be sharing highly useful and practical solutions to those issues too!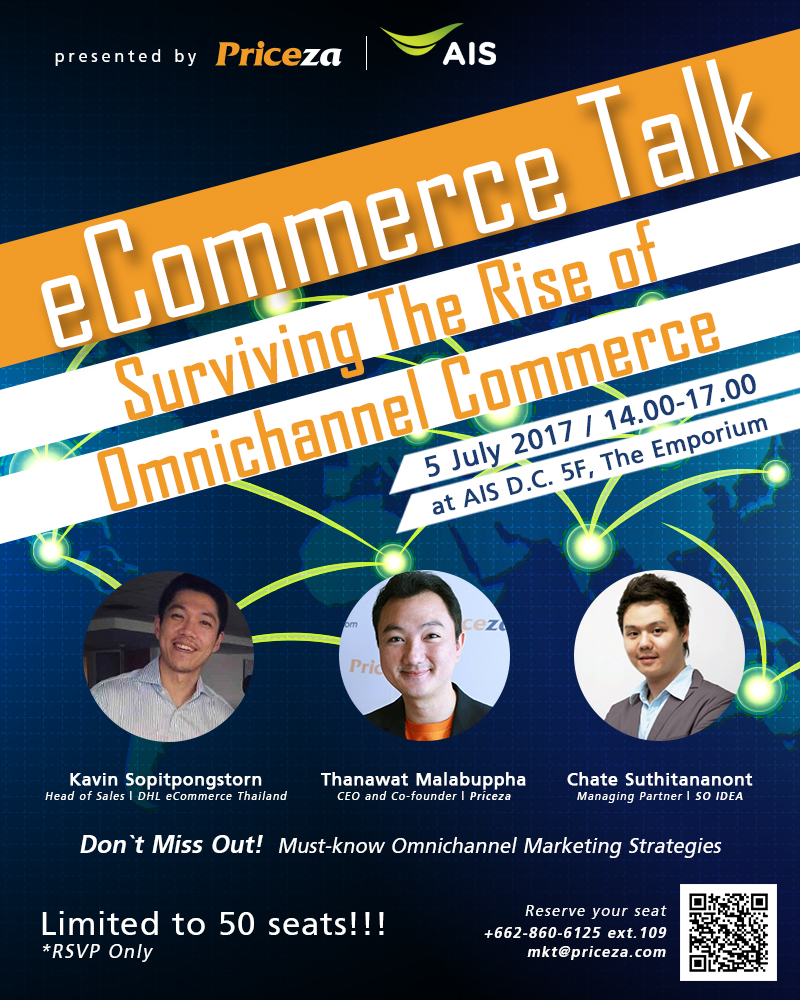 "The free-for-all event is meant for entrepreneurs and digital marketers who are battling various marketing and sales challenges of the emerging omnichannel commerce. We, at Priceza have always been dedicated towards creating a robust as well as transparent eCommerce ecosystem in Southeast Asia. However, with the emergence of omnichannel commerce, businesses are increasingly facing marketing and sales challenges, directly effecting their bottom lines. Thus, we are bringing together experts from various segments to raise awareness on various issues and help them create sustainable strategic solutions", Thanawat Malabuppha, CEO and Co-founder of Priceza.
Thanawat Malabuppha will open the event by presenting a brief introduction on Priceza and present eCommerce trends in the region.
Following this he will discuss the various reasons behind the rise of omnichannel commerce in SEA.
He will also share his expertise and insights on ways to build successful omnichannel strategy.
In the 2nd part of the event, Chate Suthitananont of SO IDEA will share valuable insights on omnichannel customer experience and how it disrupts digital marketing.
This discussion is aimed at digital marketers and is expected to help them create effective strategies to ensure success in omnichannel market environment.
Kavin Sopitpongstorn from DHL will lead the talk in the 3rd part. He'll discuss the effects of omnichannel commerce on logistic scenario.
With years of experience and expertise in the industry, he'll share omnichannel best practices that entrepreneurs can follow to ensure better customer experience and increase their sales.
This is a complete no-cost program, targeted towards strengthening the eCommerce system of the region.
However, the number of participants is limited to 50 and registrations will be available till the seats are full.
Interested entrepreneurs and digital marketers can register for the event by sending an e-mail to mkt@priceza.com or by clicking here or by calling +662-860-6125 ext. 109.