Top 5 Trends of Indonesian E-commerce Industry in 2017
Indonesia is one of the most intriguing e-commerce market in entire Southeast Asia today. While on one hand, the country is poised to become the third largest e-commerce market in the world within 2020,  on the other hand the e-commerce shoppers here displays high degree of distrust towards online payment options afraid of online fraud. These opposing characteristics are responsible for creating some e-commerce traits unique to the country.
However, with lower labor cost and growing amount of dispensable income per individual, Indonesian e-commerce market is growing at a fast pace. The e-commerce market here houses a whopping number of smaller sellers who uses social media as their primary marketing and often selling channel.
So, how big Indonesian e-commerce industry is?
The potential for growth of Indonesian e-commerce industry lies in sky high internet and smart phone penetration in the region. According to a study the number of smart phone users in this country was around 69 million in 2016, which is likely to grow and become around 87 million in 2017.
This high smartphone usages, coupled with the growing middle class community has made Indonesia an e-commerce hotspot. While the industry has wide scope of growth in coming times, experts are already hailing the country as the next China (the largest e-commerce market) of e-commerce.
Keeping these characteristics and growth opportunities in mind, experts are predicting some e-commerce trends that are likely to rule the industry in Indonesia.
#1. More Mobile Optimization:
This is a complete 'no-surprise' here! As per a StatCounter report published in 2015, 70% of total online traffic in Indonesia comes from mobile devices.
This data is further fortified by that fact that Indonesia had the highest number of mobile Facebook users (around 63 million) in 2015. As per predictions, by 2018, 99% of Facebook users in the country will be using the mobile app instead of the desktop version of the social media site.
These statistics show a clear dominance of smart phones over desktops as preferred devices for browsing the internet.
Keeping pace with the trend, more and more online businesses will be forced to launch highly mobile optimized websites or create user friendly mobile apps to access wider customer base as well as to stay relevant in 2017.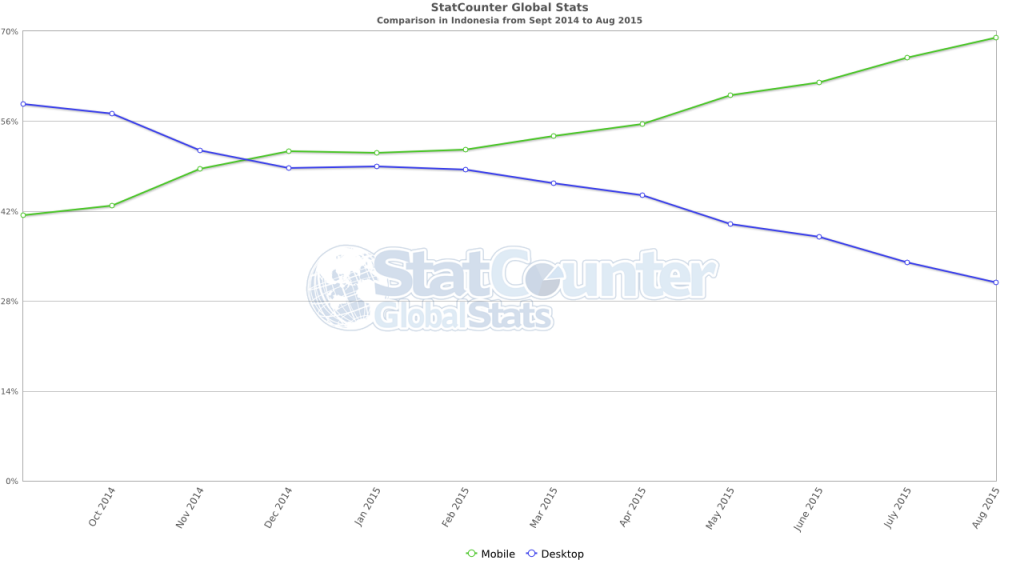 #2 One Day Delivery Option
When it comes to formative e-commerce markets like Indonesia, where people are still getting used to the whole online shopping experience, one of the biggest concerns become delivery time. The customers who are used to receive the products on real time basis in a brick and mortar shopping experience, often find it hard to wait several days for the product to get delivered.
In last year only, we've seen Bukalapak collaborating with GoJek to facilitate one-day delivery service for their customers. One of the major players, Lazada also started their own delivery service LEX to ensure faster delivery.
This fight for the last mile is likely to continue and grow fiercer in 2017. With more and more businesses competing to capture fatter market share, offering one-day delivery option is likely to become a potent tool for attracting customers.
#3 Rise of Virtual Payment Wallets
The large number of Indonesian population is highly wary of online transactions. Moreover, credit and debit card ownership in this country is pretty low. Thus, cash on delivery (known as bayar di tampat in local language) and bank transfer are the major modes of payment for online shopping. However, in a market which is as fast growing as Indonesia, only two popular payment option is quite limiting.
Considering the situation, the rise of E-wallets is pretty predictable. Payment start-ups such as iPayMu and PonselPay are two prominent example here.
In 2017, online businesses at large are likely to incorporate more payment options to offer wider choices and convenience to the customers. As a result, the market will invariably see the rise of more payment processing wallets and see then gain more prominence too.
#4 Customer Loyalty Programs
Indonesian market is highly competitive and fairly price sensitive. To top it up, one can see preference for personalized services among young adults with strong purchasing power.
Thus, online businesses here are quite concerned for creating customer loyalty, resulting in repeated purchase. Here, personalized coupons for creating lasting customer loyalty is one of the greatest weapons the online shops have.
In 2017, as competition grows fiercer, the customers are likely to be on the receiving end of various customer loyalty programs, personalized coupons and offers as well as offers on special occasions.
#5 Popularity of Chat Bots
Last year, almost all tech giants have launched their chat bots to fortify their customer support activities. Google Allo, Twitter Bots and Facebook Messenger Bots are prominent examples here.
With a significant portion of online shopping happening over social media platforms, especially Facebook, experts are predicting growing usage of chat bots to ensure higher degree of customer engagement and support.
The growing competition and the urge to offer more personalized customer support is the main reason for the increased popularity of chat bots. The decreasing cost of technology too plays an important role here.
In short, one can predict the usage of chat bots in e-commerce to be more prevalent.
These are the 5 top trends that are likely to gain dominance in Indonesian e-commerce market in 2017. Apart from these prominent traits, one can predict rapid growth, more investment and higher competition in the country's e-commerce industry.