Thailand E-Commerce Market: What to Expect in 2017
With 42.7% of total population being active internet users (in 2016), the scope of e-commerce industry in Thailand is nothing but lucrative. While the market is still in its formative stages, the country has ruled the e-commerce scene is Southeast Asia for quite some time now. As expected by the market leaders, the e-commerce market in Thailand displayed high growth rate last year and is poised to garner a revenue of $2,945 million in 2017.
However, the amazing growth potential coupled with rapidly evolving e-commerce scenario is likely to result in well-defined trends and traits of industry. So, here's an expert summary on what to watch for in the Thailand e-commerce market in 2017.
Steady E-Commerce Market Growth
E-commerce in Thailand has grown by 15-20%  in 2016. According to most industry experts, this growth rate is not likely to decrease anytime soon. As per one of the leading market research firm, e-commerce penetration in the country will go up to 21.7% by 2017 and will reach 24.5% by 2021.
Another interesting aspect of e-commerce growth in the region is their growing preference for purchasing electronic goods online. Sales of Electronics and Media contributed the largest revenue share in 2016, followed by Toys, Hobby & DIY. This trend is likely to continue in 2017 too. While in China, Fashion occupies the largest revenue pie, in case of Thailand the segment is the third largest revenue generating segment.
While high internet penetration and increase of disposable income are two major factors for propelling the e-commerce growth in the country, Govt initiatives and support plays a significant role too. Initiatives and upcoming events such as 'Thailand E-Commerce Day' and 'Thailand Online Mega Sale 2017' planned by the Departments of Business Development are likely to boost the market and propel growth in this year.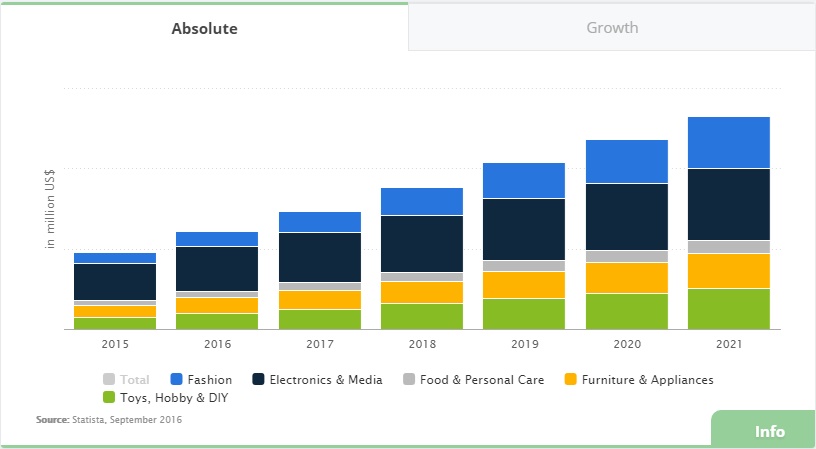 Image source: statista.com
Rise of Online Payment
Thailand has a pretty low credit card ownership till date. While 78% of the adult population in the country have bank accounts, credit cards transactions amount to only 3.70% of total transaction. With most of the users wary of online transactions, cash on delivery and direct bank transfer are two most prevalent payment options here.
However, this scenario is likely to change in 2017 with Thailand's National E-Payment System. The e-payment system was put in place last year to facilitate safe online transactions and propel e-commerce growth. As per the predictions of many experts, the Govt sponsored e-payment system has the potential to double the amount online transactions in country within next three to five years.
Mobile payment is another crucial area to watch, as mobile devices are the leading traffic source for e-commerce purchases in Thailand, especially in rural areas. With the leading players like Line Pay, MOBIAMO, PromptPay, PayPal etc aggressively fighting to capture market share, the number of mobile transactions are likely to see steady growth in this year. As per market research experts, mobile payment transaction value is expected to display average 72.3% yearly growth in the next five years.
With so many developments in the online payment segment, one can expect a decrease in Cash on Delivery and increase in online payments in 2017.
Brands Reinventing Themselves to Suit the Digital World
In a competitive e-commerce market where brand loyalty is constantly fluctuating, customer engagement and creating a unique user experience is of utmost importance for most online brands. Thus, reinventing the brand to create an edge over the competition is of high priority among many online businesses.
Proprietary pricing, niche targeting and creating a one-of-a-kind shopping experience is going to take the front seat for many brands these years. Sale Stock and Pomelo Fashion are two biggest examples on how one can create unique shopping experience to drive sales.
Another significant trend to look for would be the inclusion of chatbots to create a more humane shopping experience. While consumers are looking at engaging with brands on one-on-one basis and technology is getting more affordable, it only likely that more brands will deploy AI fuelled interactive chatbots to offer 24*7 support and more personal shopping experience to their consumers.
Offering more personalized offers and just-for-you coupons are also likely to gain more popularity this year.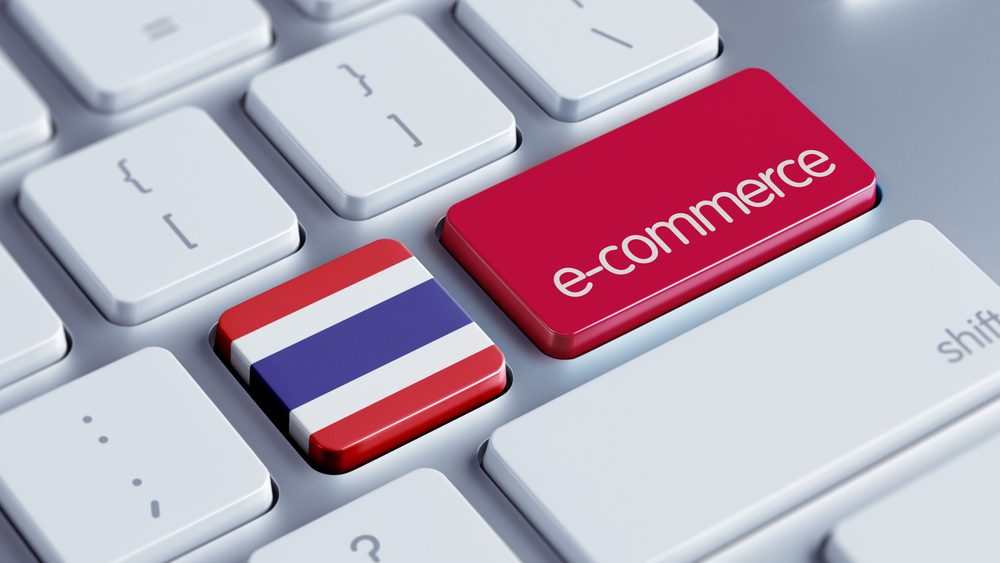 Logistical Advancement to Propel Growth
Logistics remains one of the major challenges in e-commerce in Thailand. While e-commerce as an industry is highly dependent on efficient delivery system, the country is still in its nascent stage when it comes to e-commerce logistic. While international logistics giant DHL entered the market last year, aCommerce still possess the fattest share in e-commerce logistics in this region.
However, the increasing demand for more organised and advanced logistical support as well as the rising popularity of one-day-delivery concept, the logistics field is likely to get heated up this year.
With Lazada launching their own logistics division and local players such as Ninja Van, FastFast etc offering highly localised services in rural Thailand, the logistical scene is poised for unprecedented growth.
Thus, in 2017, the e-commerce logistic market in Thailand is likely see to increased investment and a rise of one-day-delivery system propelled by consumer demand.
Omni Channel Marketing
With boundaries between offline and online getting blurred, marketers are increasingly creating omni channel marketing strategies to offer seamless shopping experience and unified brand persona.
In 2016, online fashion retailer Zalora Thailand merged with Central Group's broad ranging offline stores, to create a seamless shopping experience for their customers. While these omni channel business model lets the business capture both online and offline customer base, it also plays a crucial role in accelerated delivery process.
By creating brick and mortar stores, online retailers can facilitate speedy delivery for their online purchases too, where, the offline stores can act as warehouses for each locality.
With increased competition and demand for inclusive shopping experience, the omni channel trend of likely to gain more popularity in 2017.
So, these are some of the most significant aspects of Thailand e-commerce market in 2017. With amazing potential for growth, advancement of technology and better logistical infrastructure, one can expect 2017 to be a very exciting time for e-commerce industry in Thailand.