When it comes to the Chinese eCommerce market, Alibaba and JD.com are the two major players. While the rivalry between the two eCommerce majors in no secret, they seem have brought the game in Thailand too.
As per a recent Statista report, the size of Thailand eCommerce market is an estimated $2,962 million this year. The market is further expected to grow 14.5% per year, resulting in a market size of $5,830 million by 2022.
Well, the size of the Thailand eCommerce market (which is still in its formative stage) is definitely a huge motivational factor for international players.
Entrance of Alibaba, followed by JD.com is the proof for that.
Source: BOF
Alibaba Enters Southeast Asia in April 2016
In April 2016, Alibaba invested $1.5 billion in Lazada, the leading eCommerce player of Southeast Asia as well as Thailand.
In June 2017, the international eCommerce giant upped its stake to 83% in Lazada by investing another $1 billion.
Apart from backing Lazada up, the Chinese eCommerce biggie has taken an active part in improving the eCommerce Eco-system in the region. With Alibaba founder Jack Ma appointed as Digital Economy Adviser by Malaysia Govt, Aliexpress (the logistic business of Alibaba Group) rolling out expansion plans in Southeast Asia and Alipay (online payment wallet from Alibaba Group) being introduced as a trusted payment solution for online businesses, Alibaba has definitely secured a solid foothold for itself in Southeast Asia.
JD.com comes to Thailand
JD.com announced their first foot step in Thailand on September'17. The company announced an aggregate investment of $500 million in two joint ventures with Thailand's retail conglomerate Central Group and fintech company Provident Capital respectively.
The Thailand entrance is significant in many ways for the eCommerce industry of the country.
With Alibaba entering the scene, Amazon poised to join the game, and C2C as well as social commerce becoming popular, JD.com's entry is sure to have deep implications.
What to Expect in Online Retail?
The online retail scene in Thailand is more or less dominated by Lazada today. The entrance of JD.com is sure to increase the competition here.
By announcing a joint venture with Central Group, JD has displayed their willingness to partner-up with local players, instead of building everything from scratch.
Keeping in mind the notorious rivalry between Alibaba and JD.com in their home ground, one can expect aggressive price war and improved service offerings to capture the Thailand market. While, ruthless pricing war may not be a gainful situation for the industry, customers are definitely going be on the winning side.
Offering value added services such as faster delivery, personalized offers etc are likely to become the deciding factors for lasting customer relations.
To sum it up, one can expect the eCommerce scene in Thailand to become more competitive, benefiting the customers the most.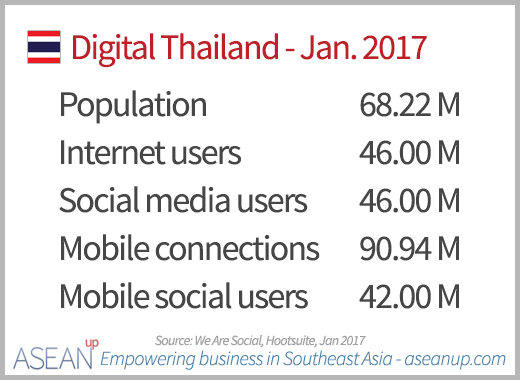 Source: ASEANUP
What to Expect in Fintech?
Thailand has a population of 68.22 million (as per an ASEAN up Report) and 46.00 million among them are active internet users. Consider the facts that, eCommerce is fast gaining popularity in the country and credit card usage is still a paltry 3.70%; and you get a lucrative market for Fintech businesses.
Mobile payments, Credit and Lending, Personal Finance and Insurance segments are the unexplored gold mines in Thailand.
Alibaba, with their history of strategic expansion of Ant Financial in the home country has already introduced their payment wallet network Alipay in Thailand. Keeping in mind their expansion history in China, one can safely predict that Ant Financial will surely tap into the Fintech industry sooner rather than later.
On the other hand, JD.com also has a $7 billion worth of online financial services business in place. By announcing the joint venture with Provident Capital, JD has made their intention of joining the Fintech market clear.
Now, this will definitely create a competitive Fintech climate in Thailand. While customers will reap the benefits of better offers and services, the Fintech industry is likely to see unprecedented growth in coming time.
Presence of two international biggies (i.e. Ant Financial & JD.com) is also likely to bring Thailand in the forefront of Fintech industry and inspire start-ups in the field.
What to Expect in Logistics?
eCommerce logistics is one field where much is happening in Southeast Asia, and not just Thailand!
Why? While eCommerce industry has been growing rapidly in the region for the last couple of years, eCommerce logistics infrastructure remains way behind. However, with the entrance of international players like DHL and the inception of logistic start-ups such as Ninja Van, Anchanto, FastFast etc, the scene is changing.
With Alibaba's entrance in Thailand, the group has launched their eCommerce delivery service AliExpress. However, one of JD.com's USPs in China is their super-strong delivery network and there is a good chance they'll play to their strength in Thailand too.
While AliExpress is already capturing market share, JD.com is likely to develop their own delivery service to add value.
One can safely say that the eCommerce logistics sector is going to see more competition and development in the coming years in Thailand.